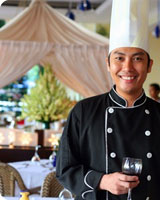 pracovní poměr
plný úvazek
jazyky
angličtina - pokročilý
Popis práce
MECCTI invites you for interview with managers of airline. The recruitment will be in Prague 16th August 2015.
————————————————–
Responsibilities of stewardess are:
greeting passengers as they board and exit the plane

showing passengers to their seats and providing special attention to certain passengers, such as the elderly or disabled

serving meals and refreshments

checking the condition and provision of emergency equipment and information for passengers

demonstrating emergency equipment and safety procedures

administering first aid

dealing with emergencies
supplying passengers with newspapers, magazines and in-flight entertainment
Plat:
2400 USD netto/month + free accommodation, training, visa…
Nástup do práce: 

By agreement
Délka kontraktu: 
Minimum of 2 years and longer
Ubytování:
Fully furnished shared apartment – provided by airline. Accommodation is provided free of charge in a beautiful apartment, in which you have available gym, pool, tennis courts …



Strava:

Worldwide discounts for food in restaurants.



Pojištění:

Provided by employer.


Salary:

Basic salary during cabin crew training = 933 USD/monthly

After completion of the cabin crew training period it will be around 2400 USD/monthly including flying allowance



Další výhody:

FREE Training course, Visa, Fly ticket, Designer uniform
Worldwide Medical care & Life insurance
FREE fully furnished apartment
FREE duty transport + telephone allowance
2 years Renewable contract
End of Service Award: One month basic salary for every year of continuous service
30 days annual leave & annual leave ticket
Travel benefits on airline and partners airlines



Lucrative job which change your life
Accommodation is provided free of charge in a beautiful apartment, in which you have available gym, pool,laudry,shops, internet …
You will save a large part of your income
This is the best opportunity how to get to know the most beautifull and awesome places in the world!



Další informace:

1900 USD (processing and consultancy fee which will be paid only by sucessful candidates who will decide to accept job offer), we take care of all your administration and proccess. Please note, that you do not have no other initial expenses (air ticket, visa, training are paid by AIRLINE)



For application please send us your resume/CV in english language with full lenght photo and also with actual telephone number at email cz@universalconsulting.sk


Suitable candidates will be informed about exact time and place of recruitment and next steps by email.